Sega Grid 32" - Hummer Conversion
Sold as single units. 2 Machines shown in images.
AU$4,500.00

(ex. GST)
AU$4,950.00

(inc. GST)
In Stock
Notify me when back in stock
SEGA Grid In 32" LCD Cabinet - Hummer Conversions
Price Listed is per single cabinet.
These can be linked, there are 2 X identical cabinets available.
Race the world's most desirable cars for the ultimate high-octane rush.
Adrenalin-fuelled two-player arcade racing game.

Sensational arcade-quality graphics and sound effects.

Race supercars including the Ford Mustang, Pagani Zonda and Koenigsegg CCGT.
Sit down, strap in and hold on tight! Sega's Grid, originally released as a console game on the Xbox 360, PS3 and PC in 2008, was developed into a full-blown arcade machine in 2010.
Users loved the sensation of speed, the range of desirable supercars, and the faithful recreations of some of the world's most famous race tracks.
There are three game modes to explore. The first is the Quick Race - just select your car, your circuit, and put your foot down. This is the game stripped down to the minimum, where all you need to do is drive as fast as you can. Sound easy? Try it.The second mode is Multiplayer. Like Quick Race this is designed to get you racing as quickly as possible, but this time against a friend. With twin dual monitors and moulded bucket seats this game was designed for Multiplayer action, and the races can get extremely tense. Remember - rubbing's racing, but no elbows.
The third mode is Championship. Pick your race car and work your way through three tiers of races, and don't hold back - you need to finish in the top three to progress through each level. Win every race to unlock the secret track and become the ultimate champion.
Grid pits you against your friends or against blistering AI drivers in some of the finest supercars in the world today, each with its own unique driving characteristics. Tracks include Donington Park, Spa Francorchamps and the formidable Nurburgring, as well as road circuits like Okutama, Milan and Long Beach.

The twin cabinet is equipped with high-quality 32-inch or 42-inch high-definition monitors, immersive LED lighting effects and a pounding 2.1 digital sound system. Subwoofers are mounted in the seat to simulate the feel of road surfaces. The steering wheels feature force feedback for dynamic motion effects, and you can view the action from three camera angles. This is a game for the discerning collector and supercar fanatic, and one that will provide years of exciting racing.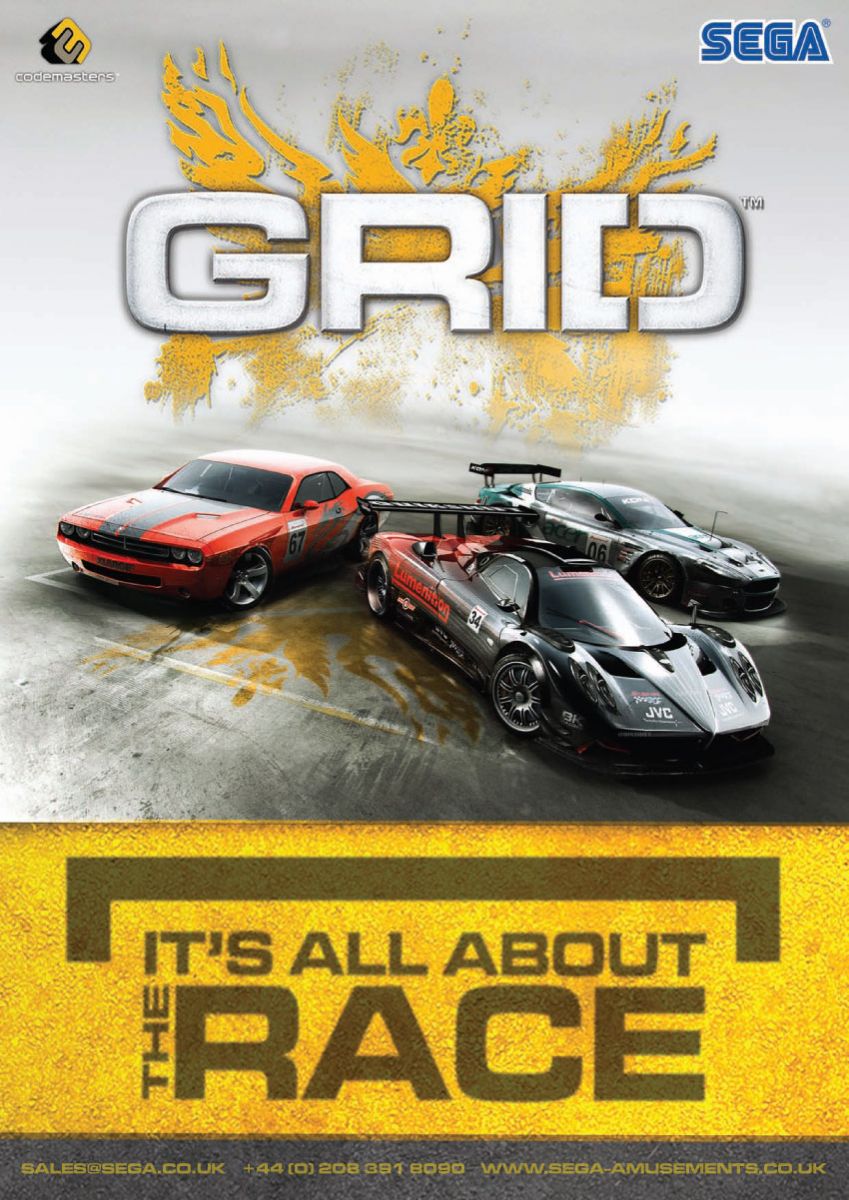 32-inch LCD hi-def monitor.

Race the Aston Martin DBR8, Bugatti Veyron, Dodge Challenger, Dodge Viper, Ford Mustang, Jaguar XKR, Koenigsegg CCGT, Mercedes McLaren SLR, McLaren F1, Pagani Zonda, Saleen S7 and Toyota Supra.

Take on legendary race tracks and road circuits: Detroit, Donington Park, Long Beach, Milan, Nurburgring, Okutama, San Francisco, Spa and Washington.

True damage modelling - watch your car become damaged by impacts.

Ergonomic steering wheels with Force Feedback effects.

2.1 sound system with seat-mounted sub-woofers, used to simulate road surface undulations as well as audio effects.

Quick Race, Multiplayer or Championship game modes.

Selectable automatic or manual transmission.

Three views - bumper cam, driver's eye view and bird's eye.

Race lengths of two, three or four laps

Game difficulty settings – easy, medium or hard (tailor the the required lap completion time and skill of AI-driven cars).
Dimensions:
100.7cms Wide X 157.5cms Deep X 210cms High - 240Kilo
| | |
| --- | --- |
| Shipping Weight | 240.0000kg |
| Shipping Width | 1.007m |
| Shipping Height | 2.100m |
| Shipping Length | 1.575m |
| Shipping Cubic | 3.330652500m3 |
| Assembled Length | 1.575m |
| Assembled Height | 2.100m |
| Assembled Width | 1.007m |
---
Others Also Bought
---
More From This Category